If you're starting out as a freelance translator, you might be excited to finally get a good offer in your mailbox. Someone wants you to translate a big presentation or several pages out of a book. They agree to your price and offer to pay you by check. But how do you know if their offer is serious? Let's look at what you can do to minimize the risk of being scammed.
---
Example of a scam request
When I was starting out as a freelance translator offering game translation services, I received a request via proz.com by someone called Regina. Proz alerted me that it was not sent by a registered user. It read:
Hello,
I would like to know if you are available to translate a document from English to German.
Thank you
I replied that I was generally available, but needed more info on the text, number of words and deadline as well as their budget. Regina replied one day later:
Hello,

Thanks for your response, my sincerest apologies for the delay in responding back to you.

Attached here is a copy of the document I would like to translate so you can view, send me your proforma invoice/charges per word, modes of payment and your delivery time.

Thank you
Attached was a document called Human & Nature.docx. It had 39 pages and 12,997 words and appeared at first glance to be about wind turbines. Wind turbines were a big part of my education back at university, but this is not actually mentioned on my Proz profile. My profile on Proz is all about video game translation. So I wondered for a moment why they would have picked me for this, and then I stuck a random sentence from the text into Google. I received one hit out of a book called Adapt: How We Can Learn from Nature's Strangest Inventions.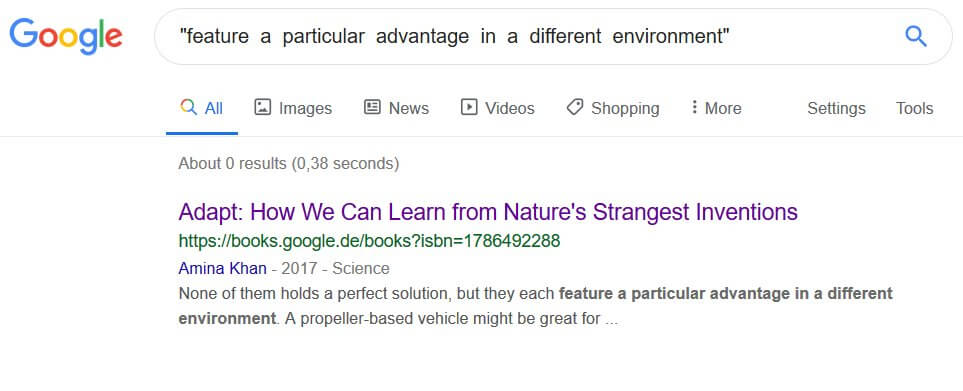 Interestingly, the very first sentence of the document had been changed, maybe exactly for this reason – so I wouldn't find it in Google. Now the whole offer seemed extremely strange. Why was somebody asking me to translate a random part from the middle of a book?
So next, I took part of the strangely worded e-mail ("proforma invoice/charges per word") and put that in Google. And wouldn't you know it, there was already a scam alert for it on the Proz forum.
I sent "Regina" a quote anyway, asking her for her address for the invoice and requesting payment in advance via PayPal or Transferwise. I was fairly certain she was going to promise me to pay in advance by sending a check.
Hello Veronika,

Your price seems relatively low compared to other translators and I really appreciate that. The delivery date is okay but in return I want a perfect and accurate translation

50% of the payment will be sent upfront so you can proceed with the translation as soon as your receive the payment and the balance upon completion of the project.

However, my preferred mode of payment is a check and all that is needed is

Your full name and address as it should appear on the check and your home address.

Here is my personal information for your perusal

Full Name: Patricia Smith
Address: 12, White hart lane
City: Avon
State: CO
Zip: 81620
She also provided a phone number. The address doesn't exist, and Regina's full name was now Patricia Smith!
I wrote back to let her know that I didn't accept checks because "there are a lot of scammers about", but would happily accept PayPal or Transferwise. As you can imagine, she (or he) never contacted me again.
How it works
It's not immediately obvious how someone is going to scam you out of your money this way. They're not trying to rip you off by not paying you and getting away with a free translation – after all, they're offering to pay you in advance. So what could possibly go wrong?
The answer is check fraud. They will send a check to your bank (or deliver it to a bank in person) and request it to be put into your account. Now instead of the $1500 you quoted them for your hard work, there are suddenly $2500 in your account when you check. Oh no! They overpaid you!
This is where they make up a story as to why they accidentally gave you more than needed. They got their checks mixed up and accidentally sent you the check that was intended for the event planner of their step-mother's funeral (I'm not making this up) or similar. Could you please be so kind as to send the overpaid $1000 back to them?
Since you're a good person who would never take advantage of anyone's honest mistake, you transfer the overpaid amount back to them, so the funeral event planner can also get paid for the honest work of planning a funeral.
Behind the scenes, however, the bank slowly does what it should have done initially and suddenly finds out that the check they cleared and put into your account was, in fact, a fake, so they withdraw the $2500 from your account again. As a result, you did work you didn't get paid for, plus the scammers milked you for $1000 on top. Don't let this happen to you!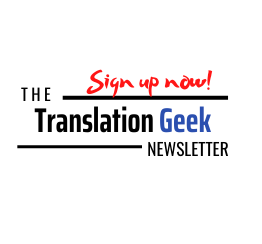 How to protect yourself
Obviously, there's common sense. If something looks fishy and doesn't add up, be wary. However, if this always worked, there'd be no scammers in the world. And who am I kidding? I once paid €600 to get a broken toilet fixed by an obvious quack who came at midnight instead of 10am and charged me a late shift surcharge for it. (That really hurt.) We don't always make rational decisions. Still, if you're asking yourself, "Is this a scam?", that's your first warning sign.
Google part of the e-mail
Scammers are like many of us, they are inherently lazy. They don't come up with a new pitch for every person they try to scam, so Google is your friend, as are scammer lists or scammer directories. New translators on Proz are popular targets, so look for threads on scams on Proz.
In my case, googling part of the e-mail worked, if only because someone was scammed before they tried it on me. Googling part of the source text also alerted me to the fact that something was fishy. Looking for the e-mail address online can also help.
Check scammer directories
The Translator Scammers Directory is a place to find info or search for e-mail addresses, if you can get beyond the awful interface. Proz.com also has a good overview of scams along with many people active in the forums that will alert fellow translators if they run into a scammer.
Ask them questions
Of course, the scammer is still awaiting your reply to see if they got you on the hook. Tell them you want complete payment in advance, not by money transfer/check. Offer them PayPal or Payoneer or what have you. They probably won't contact you anymore or if they do, they will insist on their preferred method of payment.
I don't advocate you scam the scammer, though, (as James Veitch has done, albeit not with a translation scammer) as people with too much criminal energy could certainly cause you a lot of trouble if they really wanted to.
Final Thoughts
It is a sad reality of life that some bad people try to enrich themselves by finding honest people to rip off. Don't be too hard on yourself if you've had a bad experience – just learn from it and move on. And while I don't advocate going around suspecting everyone to be a crook, I do suggest going through life with your eyes open. Just be wary – if something sounds fishy or too good to be true, it may very well be.
---
Comments? Drop them below, and then sign up to my newsletter to never miss another post!