I was hired as an in-house translator right out of university, so when I eventually decided to start doing freelance work, my first question was: How much do I charge for my translations? Every freelancer knows the issue: Quote too much and you might not get the job, quote too little and you might be missing out.
Back then I could not find any aggregated info on translation rates in my language pair, so I've now created my own survey. The translation rate survey is a tool aimed at helping freelancers find out what actual rates are being paid to give them a solid foundation for calculating their own rates.
Why I Created the Translation Rate Survey
No good source for actual translation rates
There are several ways of deciding how much to charge for your translations, and while I don't recommend you base it on what other people charge (more on that later), it certainly helps to be informed.
However, the one place coming up repeatedly as a source for other people's rates is the Proz page on average translation rates, which appears to me to be hopelessly inaccurate.
Type in English to German as a language pair and video games as the field of expertise, and it will list EUR 0.11 as an average rate. Now choose the category Law: Patents, Trademarks, Copyright and what do you get? The same EUR 0.11. You don't have to be up-to-date with current translation rates to know that the translation of patents requires special knowledge which usually leads to higher rates.
And while the rate never changes – no matter if you pick Accounting, Aviation, Physics, or Zoology – the sample size also keeps varying between 9311 and 9310. Who would have thought translators specializing in zoology are as common as those specializing in video games?
Average rates have limited usefulness
While I don't know where Proz receives their data, even if we assume that it's accurate, an average rate is not that useful. To be fair, Proz also gives a minimum rate, but as a freelancer, I'm more interested in the highest rate – the minimum rate is probably what the client is after. But the highest rate is not available on Proz.
How the Survey Works
As a result of the above, I decided to build my own translation rate survey, but building the perfect form was cumbersome, and manually processing each entry and sharing the results also didn't sound great.
What I needed was:
Easy and quick way to participate.
Anonymous data sharing.
Easy way to distribute the results (without manually putting them up on a website or preparing the results in a newsletter)
For a long time, I could not think of a good way to aggregate the data. It was only when I heard about the Real Media Salaries Google sheet on the Salary Transparent Street podcast that the penny dropped.
The Real Media Salaries method of collecting data is by connecting a Google form with a Google sheet. Easy! Everyone can fill in the Google form, and the results automatically appear on the Google sheet for anyone to see but not to edit. This means data can be put in and appear without any manual copy and pasting or access rights management.
So you can go to the Translation Rate Survey form, fill it in (or not) and then see all the results on the Translation Rates Survey sheet.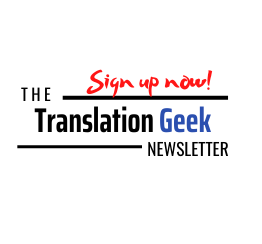 Potential and Limitations of the Survey
First and foremost, the translation rate survey is a tool to get an overview of translation rates. The aim is to get good data as easily as possible. Input should be easy and user-friendly so there is a low barrier to participation. Viewing the data should also be easy, which is why the Google Sheet is a useful tool.
As I'm writing this, the sheet has reached 227 entries – still a small number, but a good start.
Limitations of the Survey
The survey is limited by various factors:
Quality of the data
The data is put in by kind people who want to share their rates and learn about other people's rates. There's no vetting of participants and no proof required, so technically anyone could make up their rates. This is always a risk with any self-reported data, which likely includes the data provided to Proz.
Processability of the data
While the survey gives clear instructions on how to fill it in, people don't always follow them. Sometimes the currency is missing, and as the field of expertise is a free text field in the survey form, people are likely to end up using different categories for the same thing (e.g. "video games", "video game", "gaming", "console game").
Also, after I started the survey, someone suggested I add country of residence and education as a question, so education and country information are missing in earlier submission.
As a consequence of the above, filtering the sheet can be tricky. Filtering by rate is also not currently possible, as the same field can have hourly rates, per word rates, or per minute rates (for subtitling) and the replies are in a field formatted as text rather than a number value.
While I think it would be possible to adjust the form to address these issues, filling in such a form (with separate questions for subtitling, hourly rate, per word rate and drop-down menus for currency and country) would be more of a hassle. That's why I'm leaving it as it is for now.
Advantages of the Survey
As the number of entries increases, the data will give a good overview of actual translation rates in a variety of fields. This can give freelance translators an idea of what rates are realistic, what rates they can aim for, and what fields to specialize in to boost their income in the long run.
How To Set Your Translation Rates
Now that the translation rate survey has been created and data accumulates, it might be tempting for freelance translators starting out to set their rates according to what they find in the sheet. Things are a bit more complicated, however.
Cover Your Costs
Consider that your translation rate has to be high enough to cover your expenses and your lifestyle. Corinne McKay has a great article on setting the right rate for your translation services and also covers this in her book. You need to work out how much money you need to make to cover your expenses, how many hours a day and days in a year you want to work, and then – taking into account how many words you can translate per hour – your minimum rate should begin there. There is no point in charging EUR 0.11 a word for your services if you need EUR 0.12/word to cover your expenses.
Find the Right Clients
Similarly, just because someone may get CAD 0.26 per word for English to French medical translation doesn't mean you will automatically get as much if you ask for it when an agency reaches out to you. Being a successful freelancer often also means marketing yourself, networking, and finding direct clients. Still, it is useful to know rates like these are possible.
A Word on Project Rates
Consider also that clients often don't want or need an hourly or per word rate. Especially if you move away from big translation agencies, many clients will have a project-based approach and you can quote them project-based prices. They want to know what it will cost them in total.
If you foresee a freelance job will need lots of research or other work on top of the actual translation, you need to factor this in. If you quote for a 10,000 word document at EUR 0.15/word but it will need two extra hours of work for fixing the layout in InDesign, factor those hours in and quote a project rate.
Conclusion
The translation rate survey is a tool for freelance translators to get an idea of current translation rates in various language pairs. All freelance translators are encouraged to participate – and to be critical of the results.
Please share!
If you like the idea, I'd appreciate it if you'd share the translation rate survey with all your freelance friends or followers! Here's the link to the survey, which in itself contains a link to the Google sheet:
https://forms.gle/1P3isZafs1WyXchh6
References